Industry-specific Guidance
The Government has prepared industry-specific guidance notes for a number of sectors, including the following:
Prepare your farming business for 1 January 2021
Prepare your food and drink business for 1 January 2021
The Department for Business, Energy and Industrial Strategy (BEIS) has also prepared a series of Webinars for business covering a range of sectors. For further information and to register for forthcoming webinars or to watch recordings, visit the BEIS Webinar website.
Article added 23rd October 2020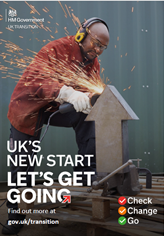 The Government has produced a useful checklist of things to consider as we approach the end of the Transition Period. To download a copy, click on the Lets Get Going Link.
Article added 23rd October 2020
Help & Support for Businesses
From 1 January the way we trade with the EU will change. To buy or sell from the EU you will need to follow new customs rules or you will not be able to continue to trade. These important actions are required regardless of the outcome of negotiations with the EU and whether or not the government secures a Free Trade Agreement.
The Government has published a website listing the help and support available to businesses, including links to webinars and videos covering a number of topics, including:
Exporting and sending goods outside of the UK
Importing and bringing goods into the UK
The customs clearance process
Webinars for exporters of animals and products of animal origin to the EU
For further information, visit the Government's Transition Guidance website.
Article added 28th September 2020