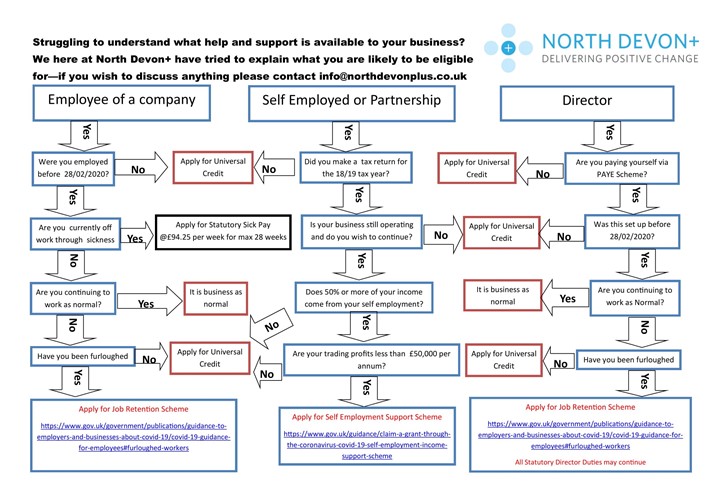 Covid-19 (Coronavirus) - Support for Businesses
There have been a number of new measures introduced to support businesses through this difficult time. This is an evolving situation and new information is coming through on a daily basis, but, in the meantime, we have listed below the key points of each scheme as we understand it.


Coronavirus Grant Schemes
Please note that funding allocated to the Small Business Grant, the Retail Hospitality & Leisure Grant and the Local Authority Discretionary Grant Schemes has been fully allocated and all three schemes are now closed.
Article added 10th September 2020


Loan Funding Schemes
Coronavirus Business Interruption Loan Scheme (CBILS)
The Coronavirus Business Interruption Loan Scheme provides access to a range of borrowing facilities of up to £5 million and repayable over a maximum period of 6 years.
Funding is provided by commercial lenders, including all the major banks and is backed by the government-owned British Business Bank.

The government will provide lenders with a guarantee of 80% on each loan to give lenders further confidence in continuing to provide finance to businesses.
The government will also make a Business Interruption Payment to cover the first 12 months of interest payments and any lender-levied fees, so smaller businesses will benefit from no upfront costs and lower initial repayments.
To be eligible for a facility under CBILS, the business must:
• Be UK based in its business activity with annual turnover or no more than £45m
• Have a borrowing proposal which, were it not for the COVID-19 pandemic, would be
   considered viable by the lender, and for which the lender believes the provision of finance
   will enable your business to trade out of any short-to-medium term difficulty
In the first instance, businesses should approach their own provider – ideally via the lender's website. They may also consider approaching other lenders if they are unable to access the finance they need.
The British Business Bank has prepared a useful list of Frequently Asked Questions about the CBILS Scheme and the South West Business Council has produced a useful checklist detailing points you will need to consider when applying for a CBILS or Bounce Back Loan.

Coronavirus Bounce Back Loan
This scheme was launch on 4th May and will help small and medium-sized businesses affected by Coronavirus with loans of between £2,000 and £50,000.
Loan terms can be up to 6 years with no repayments due during the first 12 months. No fees or interest will be payable for the first 12 months and the government has agreed a flat interest rate of 2.5% for the remaining period of the loan. The scheme will be delivered through a network of accredited lenders and the government will guarantee 100% of the loan amount.
To be eligible for a Bounce Back Loan, the business must be based in the UK, have been negatively affected by Coronavirus and not have been considered an 'undertaking in difficulty' on 31 December 2019. The formalities associated with applying for and drawing the Bounce Back Loans have been kept to a minimum to make the whole process as streamlined as possible with the aim of getting funds released to businesses within a matter of days
You cannot apply if you're already claiming under the CBILS schemes, although if you've already received a loan of up to £50,000 under CBILS and would like to transfer it into the Bounce Back Loan scheme, you can arrange this with your lender until 4th November 2020.
For further information visit the Bounce Back Loan website (link added 5th May)
Article updated 5th May 2020 

Other measures to help businesses manage cashflow
Extended payments for deferred VAT
On 24 September 2020, the Chancellor announced that businesses who deferred VAT due from 20 March to 30 June 2020 will now have the option to pay in smaller payments over a longer period.
Instead of paying the full amount by the end of March 2021, you can make smaller payments up to the end of March 2022, interest free.
You will need to opt-in to the scheme, and for those who do, this means that your VAT liabilities due between 20 March and 30 June 2020 do not need to be paid in full until the end of March 2022.
For further information visit the HMRC Deferred VAT website
Article added 28th September 2020
Business Rates Holiday for Retail, Hospitality & Leisure Businesses
In addition to the grant payments above, no Business Rates will be payable for the 2020-21 tax year on any business premises used:
• as hotels, guest & boarding premises and self-catering accommodation
• as shops, restaurants, cafes, drinking establishments, cinemas and live music venues
• for assembly and leisure

Business Rates Holiday for (children's) Nursery Businesses
Similarly, no Business Rates will be payable for the 2020-21 tax year on any business premises used:
• by Nursery providers listed on Ofsted's Early Years Register
• wholly or mainly used for the provision of the Early Years Foundation Stage

The Councils are currently in the process of re-issuing council tax bills to reflect these Business Rates Holidays and no action is required by the business.

Self-Assessment Income Tax Deferment
Income Tax Self-Assessment payments that would normally be due on the 31st July 2020 may be deferred until the 31st January 2021.
This is an automatic offer to all who are registered as self-employed, and no applications are required. No penalties or interest for late payment will be charged in the deferral period.
Customers who normally pay by direct debit should cancel their direct debit with their bank if they are unable to pay. Please do so in sufficient time so that HMRC do not attempt to automatically collect payment.

HMRC's Time to Pay Service
All businesses and self-employed people in financial distress, and with outstanding tax liabilities, may be eligible to receive support with their tax affairs through HMRC's Time To Pay service.
These arrangements are agreed on a case-by-case basis and are tailored to individual circumstances and liabilities.
If you have missed a tax payment or you might miss your next payment due to COVID-19, please call HMRC's dedicated helpline: 0800 0159 559. If you're worried about a future payment, please call nearer the time.

Coronavirus (COVID-19) Self-employment Income Support Scheme
Use this scheme if you're self-employed or a member of a partnership and have lost income due to Coronavirus.
The second instalment of this scheme will allow you to claim a taxable grant worth 70% of your trading profits up to a maximum of £6,570 for the 3 month period. 
Applications for the second and final grant are now open. If you're eligible and your business has been adversely affected on or after 14 July 2020, you must make your claim for the second grant on or before 19 October 2020.
Guidance notes have been produced which can be found at the following Gov.uk website, which includes an online tool to check eligibility
Article updated 10th September 2020


Online Business Support Finder
The government has launched an interactive "Support Finder" to help businesses identify which financial support schemes are most suitable for their needs. There are 7 simple questions to help filter the results (e.g. do you employ less than 250 people? are you self-employed? do you pay business rates? etc.):
Article added 21st April 2020