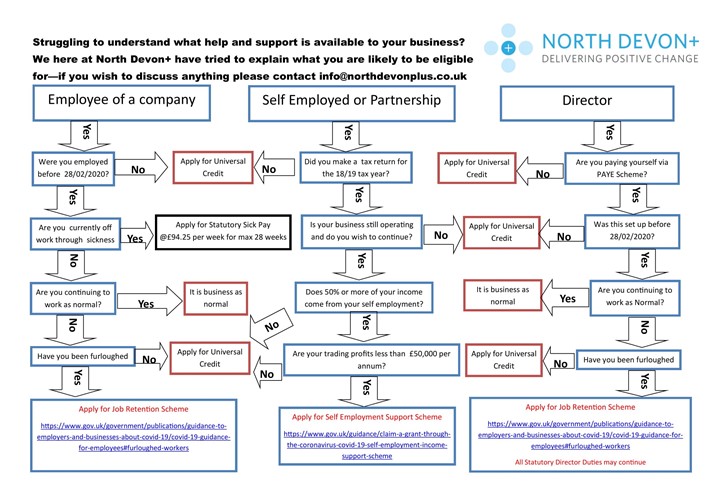 Covid-19 (Coronavirus) - Support for Businesses
There have been a number of new measures introduced to support businesses through this difficult time. This is an evolving situation and new information is coming through on a daily basis, but, in the meantime, we have listed below the key points of each scheme as we understand it.


Cash Payments to help businesses meet their ongoing costs
£20 million in new grants to boost recovery of small businesses

Small and medium sized businesses will have access to grants of between £1,000 - £5,000 to help them access new technology and other equipment as well as professional, legal, financial or other advice to help them get back on track. For further details about the grant scheme see the Government's Press Release
The support will be fully funded by the government from the England European Regional Development Fund and distributed through Growth Hubs, embedded in local areas across England. The Heart of the SouthWest Growth Hub, which covers Devon and Somerset, has been awarded £423,544 and a link to their website is here
Article added 30th July 2020


Small Business Grant Fund (SBGF)
All businesses in England already receiving Small Business Rates Relief (SBRR) or Rural Rates Relief (RRR) as at 11th March 2020, will be eligible for a payment of £10,000 for each property that was eligible for the Rates Relief. 
This includes businesses in receipt of tapered Rates Relief on properties valued at between £12,001 and £15,000
Retail, Hospitality & Leisure Grant Fund (RHLGF)
Businesses in England in receipt of the Expanded Retail Discount, with a rateable value of:
a) up to and including £15,000 will be eligible for a grant of £10,000, or
b) between £15,001 and £50,999 will be eligible for a grant of £25,000
for each property that was eligible for the Retail Discount.
Payment of both of these grants will be made by the local authority (i.e. North Devon Council or Torridge District Council) and will be paid to the registered ratepayer.

Update to LA Grant payments (29th May 2020)
As of 26th May, across the whole of North Devon and Torridge Districts, the two local authorities had already made a total of 5,573 grant payments between them totalling almost £62.5m.
Please note: Both councils have been working hard to identify eligible businesses and get these payments out as quickly as possible but, based on government figures, it is believed there are still a number of registered businesses across the district who have not yet applied for their grant payments. If you have a business which is registered for business rate purposes (and likely to be in receipt of small business rates relief) but have not yet received a grant payment, please check the council's website for details about how to apply.
Torridge District Council

North Devon Council

Update - These grant payments will be subject to tax as business income (27th April 2020)
Grant income received by a business is taxable therefore the Small Business Grants, and Retail, Hospitality and Leisure Grants will be subject to tax.
Only businesses which make an overall profit once grant income is included will be subject to tax.


Coronavirus Local Authority Discretionary Grants Fund
The Discretionary Grant Fund supports small and micro businesses that are not eligible for other grant schemes was launched on 1st June. Small and micro businesses with fixed property costs that were not eligible for the Small Business Grant Fund or the Retail, Hospitality and Leisure Grant Fund may be eligible for the Discretionary Grants Scheme.

To apply, visit the relevant local authority website:
Torridge District Council - Discretionary Business Grant
North Devon Council - Discretionary Business Grant
Article added 1st June 2020
Loan Funding Schemes
Coronavirus Business Interruption Loan Scheme (CBILS)
The Coronavirus Business Interruption Loan Scheme provides access to a range of borrowing facilities of up to £5 million and repayable over a maximum period of 6 years.
Funding is provided by commercial lenders, including all the major banks and is backed by the government-owned British Business Bank.

The government will provide lenders with a guarantee of 80% on each loan to give lenders further confidence in continuing to provide finance to businesses.
The government will also make a Business Interruption Payment to cover the first 12 months of interest payments and any lender-levied fees, so smaller businesses will benefit from no upfront costs and lower initial repayments.
To be eligible for a facility under CBILS, the business must:
• Be UK based in its business activity with annual turnover or no more than £45m
• Have a borrowing proposal which, were it not for the COVID-19 pandemic, would be
   considered viable by the lender, and for which the lender believes the provision of finance
   will enable your business to trade out of any short-to-medium term difficulty
In the first instance, businesses should approach their own provider – ideally via the lender's website. They may also consider approaching other lenders if they are unable to access the finance they need.
The British Business Bank has prepared a useful list of Frequently Asked Questions about the CBILS Scheme and the South West Business Council has produced a useful checklist detailing points you will need to consider when applying for a CBILS or Bounce Back Loan.

Coronavirus Bounce Back Loan
This scheme was launch on 4th May and will help small and medium-sized businesses affected by Coronavirus with loans of between £2,000 and £50,000.
Loan terms will be up to 6 years with no repayments due during the first 12 months. No fees or interest will be payable for the first 12 months and the government has agreed a flat interest rate of 2.5% for the remaining period of the loan. The scheme will be delivered through a network of accredited lenders and the government will guarantee 100% of the loan amount.
To be eligible for a Bounce Back Loan, the business must be based in the UK, have been negatively affected by Coronavirus and not have been considered an 'undertaking in difficulty' on 31 December 2019. The formalities associated with applying for and drawing the Bounce Back Loans have been kept to a minimum to make the whole process as streamlined as possible with the aim of getting funds released to businesses within a matter of days
You cannot apply if you're already claiming under the CBILS schemes, although if you've already received a loan of up to £50,000 under CBILS and would like to transfer it into the Bounce Back Loan scheme, you can arrange this with your lender until 4th November 2020.
For further information visit the Bounce Back Loan website (link added 5th May)
Article updated 5th May 2020 


Coronavirus Large Business Interruption Loan Scheme (CLBILS)
Similar to the CBILS, the Coronavirus Large Business Interruption Loan Scheme will provide a government guarantee of 80% to enable banks to make loans of up to £25m to firms with an annual turnover of between £45m and £500m.
It is expected that the scheme will be delivered through commercial lenders who will still be expected to conduct their usual credit risk checks, but this scheme allows them to specifically support business that were viable before the COVID-19 outbreak but are facing significant cash flow difficulties, that would otherwise make their business unviable in the short term.
The new scheme will launch later this month (April 2020) and will support a wide range of businesses to access finance products including short term loans, overdrafts, invoice finance and asset finance.
Further information about the scheme is available at  CLBILS  

Covid-19 Corporate Financing Facility (CCFF)
This scheme is administered by the Bank of England and is aimed at larger businesses that make a material contribution to the UK economy and employ significant numbers in the UK.
Typically, these businesses should have a short-term credit rating of A3/P3/F3/R3 or above, or a long-term rating of BBB-/Baa3/BBB- or above by at least one of the major credit ratings agencies such as Standard & Poor's, Moody's or Fitch.
Businesses that feel they may be eligible for this should approach their own Bank who will then contact the Bank of England.


Government unveils £200 million package to help innovative businesses bounce back
The Sustainable Innovation Fund will help companies recovering from the impact of Coronavirus (COVID-19) keep their cutting-edge projects and ideas alive.
This sits alongside the new £500 million Future Fund, which provides match-funding to private investors, and has already received over 500 applications since its launch on 20 May.
Businesses can apply for support through the Sustainable Innovation Fund by visiting the Innovate UK website from Monday 29 June.
Article added 29th June 2020


Other measures to help businesses manage cashflow
Business Rates Holiday for Retail, Hospitality & Leisure Businesses
In addition to the grant payments above, no Business Rates will be payable for the 2020-21 tax year on any business premises used:
• as hotels, guest & boarding premises and self-catering accommodation
• as shops, restaurants, cafes, drinking establishments, cinemas and live music venues
• for assembly and leisure

Business Rates Holiday for (children's) Nursery Businesses
Similarly, no Business Rates will be payable for the 2020-21 tax year on any business premises used:
• by Nursery providers listed on Ofsted's Early Years Register
• wholly or mainly used for the provision of the Early Years Foundation Stage

The Councils are currently in the process of re-issuing council tax bills to reflect these Business Rates Holidays and no action is required by the business.

VAT Payment Deferment
Any VAT liabilities incurred between 20th March and 30th June 2020 may be deferred, with taxpayers being given until the end of the 2020-21 tax year to pay any liabilities accumulated during this three-month period.

This is an automatic offer to all VAT-registered businesses, so no applications are required - businesses will not need to make a VAT payment during this period.

Businesses that normally pay by direct debit should cancel their direct debit with their bank if they are unable to pay. Please do so in sufficient time so that HMRC do not attempt to automatically collect on receipt of your VAT return.
Any VAT refunds and reclaims will be paid by the government as normal.


Self-Assessment Income Tax Deferment
Income Tax Self-Assessment payments that would normally be due on the 31st July 2020 may be deferred until the 31st January 2021.
This is an automatic offer to all who are registered as self-employed, and no applications are required. No penalties or interest for late payment will be charged in the deferral period.
Customers who normally pay by direct debit should cancel their direct debit with their bank if they are unable to pay. Please do so in sufficient time so that HMRC do not attempt to automatically collect payment.

HMRC's Time to Pay Service
All businesses and self-employed people in financial distress, and with outstanding tax liabilities, may be eligible to receive support with their tax affairs through HMRC's Time To Pay service.
These arrangements are agreed on a case-by-case basis and are tailored to individual circumstances and liabilities.
If you have missed a tax payment or you might miss your next payment due to COVID-19, please call HMRC's dedicated helpline: 0800 0159 559. If you're worried about a future payment, please call nearer the time.

Coronavirus (COVID-19) Self-employment Income Support Scheme
Use this scheme if you're self-employed or a member of a partnership and have lost income due to Coronavirus.
This scheme will allow you to claim a taxable grant worth 80% of your trading profits up to a maximum of £2,500 per month for the next 3 months. This may be extended if needed.
To be eligible for the scheme you must meet all the criteria below:
Be self-employed or a member of partnership;
Have lost trading/partnership trading profits due to COVID-19;
File a tax return for 2018-19 as self-employed or a member of a trading partnership. Those who have not yet filed for 2018-19 will have an additional 4 weeks from this announcement to do so;
Have traded in 2019-20; be currently trading at the point of application (or would be except for COVID 19) and intend to continue to trade in the tax year 2020 to 2021
Have trading profits of less than £50,000 and more than half of your total income come from self-employment. This can be with reference to at least one of the following conditions:
Your trading profits and total income in 2018/19
Your average trading profits and total income across up to the three years between 2016-17, 2017-18, and 2018-19.
Guidance notes have been produced which can be found at the following Gov.uk website, which includes an online tool to check eligibility

Do not contact HMRC yet – they are looking to start grant payments at the beginning of June.
If you do not fall into any of the eligible categories and wish to continue trading what actions have you already taken ?  Do you need a Business plan and cash flow forecast templates or any additional support?  – if you do please contact info@northdevonplus.co.uk


£5m fund to support young entrepreneurs during Covid-19 crisis - Information from Insider Media
https://www.insidermedia.com/news/national/5m-fund-to-support-young-entrepreneurs-during-covid-19-crisis
For further information, refer to the Government's website providing an overview of financial advice and support to Employers:

https://www.gov.uk/government/collections/financial-support-for-businesses-during-coronavirus-covid-19?utm_source=481cf311-c5b9-418a-b439-f396bdd9576f&utm_medium=email&utm_campaign=govuk-notifications&utm_content=immediate
Future Fund for high-growth companies
Full details are awaited, but the government has announced a new "Future Fund" designed to ensure high-growth companies — primarily startups — across the U.K. receive enough investment to remain viable during the coronavirus crisis.
The Future Fund is expected to launch in May, and will see the U.K. government invest between £125,000 and £5 million in qualifying startups. This will delivered via the British Business Bank and applications will initially be open until the end of September.
To unlock the investment — which looks to be in the form of a convertible loan note — businesses must secure an equal or greater amount of match funding from private investors, and be a U.K. registered private company that has previously raised at least £250,000 in private investment in the last five years.
Article added 20th April 2020

Online Business Support Finder
The government has launched an interactive "Support Finder" to help businesses identify which financial support schemes are most suitable for their needs. There are 7 simple questions to help filter the results (e.g. do you employ less than 250 people? are you self-employed? do you pay business rates? etc.):
Article added 21st April 2020