In addition to the following notes and articles which are of relevance to most businesses, at the bottom of this page, there are links to additional pages where we have collated further information specifically relating to a number of industry sectors. 
Reopening Businesses & Venues in England
England is still in a national lockdown. You must stay at home, leaving only where permitted by law, and follow the rules in the National Lockdown guidance. 
The government has published the 'COVID-19 Response - Spring 2021' setting out the roadmap out of the current lockdown for England. This is a step-by-step plan to ease restrictions in England cautiously.
Due to the current relatively uniform spread of the virus across the country, the four steps set out in the roadmap are designed to apply to all regions. The indicative, 'no earlier than' dates for Steps 2, 3 and 4 of in the roadmap are all contingent on the data and subject to change.
For further details of the step-by-step plan, visit the Government's Reopening Businesses website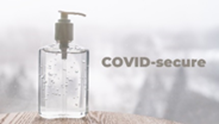 Covid-secure telephone checks by the HSE
North Devon Council is working with the Health and Safety Executive (HSE) to make sure businesses in North Devon are COVID-secure to help prevent and tackle coronavirus (COVID-19) in the district.
From Monday (12th October) officers from the HSE will be contacting local businesses by telephone to find out what measures they have in place to make sure they are COVID-secure. During the checks, advice and guidance will be provided to manage risk and protect workers, customers and visitors. Where some businesses are found not managing this, immediate action will be taken. Action can range from the providing specific advice, issuing enforcement notices, stopping certain work practices until they are made safe and, where businesses fail to comply, this could lead to prosecution.
Being COVID-secure means that businesses need to put adjustments in place to manage the risk and protect workers and others from coronavirus. More information about how to manage the risk of coronavirus in different business sectors can be found in the working safely during coronavirus (COVID-19) section of the government website.
Article updated 21st October 2020


Coronavirus support from Business Representative Organisations and Trade Associations
The government is working closely with Business Representative Organisations and Trade Associations to support the national response to Coronavirus. Visit the Gov.uk website for a list of organisations you can speak with to get advice. These organisations represent a wide range of industries and sectors and many are also happy to respond to non-member queries related to coronavirus.
Article added 11th June 2020


Online Business Support Finder
The government has launched an interactive "Support Finder" to help businesses identify which financial support schemes are most suitable for their needs. There are 7 simple questions to help filter the results (e.g. do you employ less than 250 people? are you self-employed? do you pay business rates? etc.):
Article added 21st April 2020
Dealings with Companies House
The government has announced that if the impact of COVID-19 will cause delays in filing company accounts with Companies House, you can apply for an automatic and immediate 3 month extension. You must apply before your normal filing deadline.
There is an on-line application process (which should take about 15 minutes to complete).To apply, you will need the company number, an email address, information about your extension reasons and any documents that support your application (optional). Follow this link to the online application 
Submitting forms to Companies House
As an emergency response to Coronavirus (COVID-19), a temporary online service has been developed to upload a number of completed forms and send them to Companies House digitally. Further details can be found on the Companies House website
Article updated 8th September 2020



RIDDOR Reporting
The Health & Safety Executive has issued details of when and how you should report Coronavirus incidents under RIDDOR (the Reporting of Injuries, Diseases and Dangerous Occurrences Regulations 2013).
You must only make a report under RIDDOR, relating to Coronavirus, when:
• an unintended incident at work has led to someone's possible or actual exposure to Coronavirus. This must be reported as a dangerous occurrence
• a worker has been diagnosed as having COVID-19 and there is reasonable evidence that it was caused by exposure at work. This must be reported as a case of disease.
• a worker dies as a result of occupational exposure to Coronavirus.

For more information (and examples), visit the Health & Safety Executive website
Article added 9th April 2020

Assessing the prospects for your business
ICAEW and the Institute of Chartered Accountants of Scotland (ICAS) have published guidance for owners and directors of small and medium-sized businesses to assess the prospects of their business. The guidance outlines the importance of cash flow forecasting and how to accurately reflect the impact of the Coronavirus outbreak.
Access a pdf version of the guidance here
Article added 11th June 2020