New plans to get Britain building in Coronavirus recovery
The Ministry of Housing is introducing measures to help the construction industry boost building and return to work safely, including an extension for planning permission deadlines, improved planning appeal procedures and recommendations for flexible working hours.
For more information see the government Press Release
Article added 23rd June 2020


Draft Guidance on Construction Site Working Hours

The Ministry of Housing, Communities & Local Government has produced draft guidance setting out further detail on the proposed new route for applicants seeking to extend construction site working hours introduced in the Business and Planning Bill. For further details, go to MHCLG's Working Hours Guidance
Article added 26th June 2020
Safe Working Charter
The Charter has been launched to enable housebuilders to make a common commitment to operate in line with government safe working guidance. Signatories to the Charter have publicly committed to safe working practices in accordance with government and Construction Leadership Council guidance.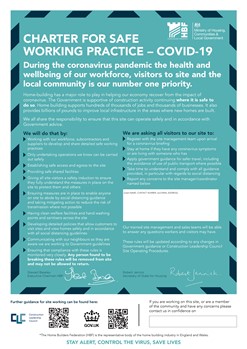 Click on the above image to download a pdf version of the poster
Article added 15th May 2020
Website links verified 8th September 2020