Environment Secretary's Letter
The Environment Secretary, George Eustice, has written an open letter dated 26th March 2020 to the food and drink industry

Register your establishment for the Eat Out to Help Out Scheme
You can use the Eat Out to Help Out Scheme:
• all day, every Monday, Tuesday and Wednesday from 3 to 31 August 2020
• to offer a 50% discount, up to a maximum of £10 per person, to diners for food or non-alcoholic drinks to eat or drink in
• to claim the money back from the government
There is no limit to the number of times customers can use the offer during the period of the scheme. Your customers cannot get a discount for someone who is not eating or drinking.
Alcohol and service charges are excluded from the offer.
Registration will close on 31 August.
Visit the Eat Out to Help Out website to find out how to register your restaurant or establishment for the  Scheme.
Article added 10th July 2020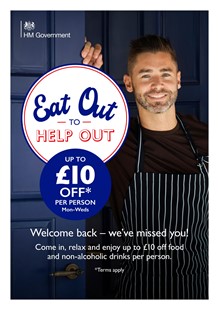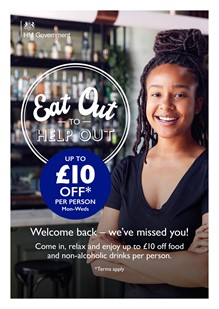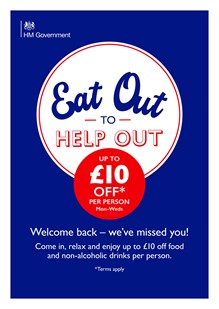 Posters, images and other promotional materials for use by establishments who are taking part in the Eat Out To Help Out Scheme.
Once you have registered, visit the Gov.UK Website for a range of materials which can be used at your premises, on social media and in other communications activities to promote your participation in the scheme.
Article updated 27th July 2020


The Government has also launched an Online Tool to find participating restaurants within a 5-mile radius
Link added 29th July 2020
Face coverings must be worn in additional enclosed public spaces from 24th July in England
Under the new regulations, members of the public will need to wear face coverings – for example, a fabric covering, scarf or bandana – that covers the nose and mouth in additional enclosed public spaces, as well as frequent hand washing and careful social distancing.

It will be compulsory to wear a face covering when buying food and drink to take away from cafes and shops. If you are in a premises where you are able to sit down and consume food or drink that you have bought, then you can remove your face covering in order to eat and drink on-site.

For further information, including details of exemptions etc. visit the Gov.uk Website

Article added 27th July 2020
Draft Guidance for Pavement licences
The Ministry of Housing, Communities & Local Government has produced draft guidance to accompany pavement licensing proposals introduced in the Business and Planning Bill.
The temporary pavement licences process introduces a streamlined consent route to allow businesses to obtain a licence to place temporary furniture, such as tables and chairs outside of cafes, bars and restaurants quickly, and for no more than £100. For further information go to MHCLG's Pavement Licence Guidance
Article added 26th June 2020
Working safely during Coronavirus
The government has produced guidance for people who work in or run restaurants and pubs including information about how to keep staff and customers safe, how to clean before re-opening and provide sanitation facilities for customers' use, manage incoming stock etc. Visit the government's Pubs, Restaurants and Hairdressers website for further information.
Article added 25th June 2020
Food Standards Agency – Reopening Checklist
The FSA has produced a checklist to support food businesses to reopen safely during COVID-19 after a period of inaction. Link to the FSA Checklist
Article added 11th June 2020
Trading Standards Support
Devon & Somerset Trading Standards have published a useful FAQ page on their website aimed at supporting businesses in the food industry, particularly if planning to switch to a takeaway/home delivery service during the Covid-19 restrictions:
They are also offering businesses in Devon and Somerset regulatory advice free of charge until the end of July, so if you would like further advice for your business,  contact details are listed on their website (although please bear in mind they will be operating on reduced staff numbers):