Face coverings must be worn in additional enclosed public spaces from 24th July in England
Under the new regulations, members of the public will need to wear face coverings – for example, a fabric covering, scarf or bandana – that covers the nose and mouth in additional enclosed public spaces, as well as frequent hand washing and careful social distancing.

It will be compulsory to wear a face covering when buying food and drink to take away from cafes and shops. If you are in a premises where you are able to sit down and consume food or drink that you have bought, then you can remove your face covering in order to eat and drink on-site.

For further information, including details of exemptions etc. visit the Gov.uk Website

Article added 27th July 2020


Re-opening Retail Businesses
The Prime Minister has set out a timeline for re-opening retail businesses:
Outdoor markets and car showrooms will be able to reopen from 1 June, as soon as they are able to meet the COVID-19 secure guidelines to protect shoppers and workers. As with garden centres, the risk of transmission of the virus is lower in these outdoor and more open spaces. Car showrooms often have significant outdoor space and it is generally easier to apply social distancing.
All other non-essential retail including shops selling clothes, shoes, toys, all furniture stores, books, and electronics, tailors, auction houses, photography studios, and indoor markets, will be expected to be able to reopen from 15 June if the government's 5 tests are met and they follow the COVID-19 secure guidelines, giving them 3 weeks to prepare.
For further information visit Retail Re-opening.
Article added 29th May 2020

High street shops, department stores and shopping centres to reopen safely
Government Press Release: Shops in England selling non-essential goods will be able to reopen from Monday 15 June, the Business Secretary confirmed today, thanks to continuing progress in meeting our 5 tests. Link to Press Release
Article added 10th June


COVID-19 Secure poster
Once your business is Covid-19 Secure, display a Covid-19 Secure Poster in your premises to show your customers and employees that you have taken the necessary steps to protect them.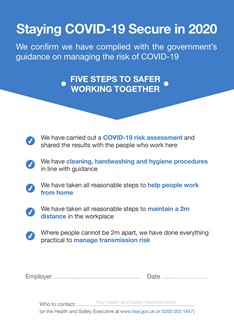 Updated 1st June 2020
Secretary of State's Letter
Alok Sharma, MP and Secretary of State for Business, Energy and Industrial Strategy, has written a letter dated 8th April 2020 addressed to those working in the Retail industry:

Restrictions on aggressive rent collection
The majority of landlords and tenants are working well together to reach agreements on debt obligations, but some landlords have been putting tenants under undue pressure by using aggressive debt recovery tactics.
To stop these unfair practices, the government will temporarily ban the use of statutory demands and winding up orders where a company cannot pay their bills due to Coronavirus, to ensure they do not fall into deeper financial strain.
Legislation will also provide tenants with more breathing space to pay rent by preventing landlords using Commercial Rent Arrears Recovery unless they are owed 90 days of unpaid rent. For further detail, visit Rent Collection Measures