Covid-19 (Coronavirus) - Support for Employers
In addition to financial assistance, new measures have been introduced to support businesses with employees through this difficult time. We have listed below the key points of each scheme as we understand it.


Kickstart Scheme for Employers
The Kickstart Scheme can be used to create new 6-month job placements for young people who are currently on Universal Credit and at risk of long-term unemployment. The job placements should support the participants to develop the skills and experience they need to find work after completing the scheme.
Funding is available for 100% of the relevant National Minimum Wage for 25 hours a week, plus associated employer National Insurance contributions and employer minimum automatic enrolment contributions. There is also £1,500 per job placement available for setup costs, support and training. Funding is available following a successful application process.
For further information on the scheme, including details about how multiple businesses can submit a partnership application, visit the Government's Kickstart website.
Article updated 4th March 2021
Kickstart Gateway for Northern Devon
With the support of our local authorities, Torridge District Council & North Devon Council, Barnstaple Chamber & North Devon Plus are a recognised Gateway for employers, providing support to micro and small businesses who would like to register for the scheme, but are unable to act on their own behalf with 30 placements.
Businesses can register their interest using the form on the Barnstaple Chamber website, stating how many placements they have, so that we can assist them in the scheme.
Through working with a range of local partners, we will be offering a bespoke service to Northern Devon businesses, signposting to other local training and business support to assist them through the application process and with their placements once in post.
Post updated 27th May 2021
NHS Test & Trace – Guidance for Employers
The NHS test and trace service will help to manage the risk of the virus re-emerging as restrictions on everyday life are eased, as far as it is deemed safe to do so.

It is vital that employers play their part by:
• making their workplaces as safe as possible
• encouraging workers to heed any notifications to self-isolate and supporting them when in isolation
For further information and guidance, visit Test & Trace Guidance
Article reviewed 1st June 2020


Returning to work – workplace safety
The government has published Guidance for Businesses to help them get their businesses back up and running and workplaces operating safely. This includes a number of guides covering a range of different types of work.
Article updated 18th May 2021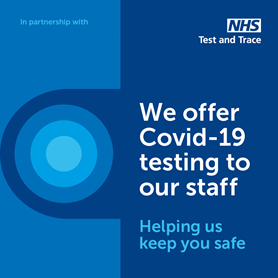 New 'We Offer Testing to our Staff' scheme launched
A new scheme for businesses offering workplace testing for staff through NHS Test and Trace has been launched across the UK. This includes a new sticker scheme will allow businesses to easily show customers, employees and the wider public that they are going the extra mile to keep their staff and the public safe.
For guidance about the simple and free voluntary promotional scheme visit the Government's WOTTOS website.
Article added 27th May 2021


Claim back Statutory Sick Pay paid to employees due to Coronavirus (COVID-19)
The Coronavirus Statutory Sick Pay Rebate Scheme will repay employers the current rate of SSP that they pay to current or former employees for periods of sickness starting on or after 13 March 2020.
The repayment will cover up to 2 weeks SSP starting from the first qualifying day of sickness, if an employee is unable to work because they:
have coronavirus symptoms
are self-isolating because someone they live with has symptoms
are self-isolating because they've been notified by the NHS or public health bodies that they've come into contact with someone with coronavirus
have been advised by letter to shield because they're clinically extremely vulnerable and at very high risk of severe illness from coronavirus
have been notified by the NHS to self-isolate before surgery for up to 14 days
You can make more than one claim per employee, but you cannot claim for more than 2 weeks in total.
For further information visit the Government's Statutory Sick Pay Rebate website, which includes a link to the online application process.
Article updated 18th May 2021


Coronavirus Job Retention Scheme (Furloughing staff)
If you cannot maintain your workforce because your operations have been affected by coronavirus (COVID-19), you can furlough employees and apply for a grant to cover a portion of their usual monthly wage costs where you record them as being on furlough.
For periods ending on or before 30 June 2021 you can claim 80% of an employee's usual salary for hours not worked, up to a maximum of £2,500 per month. From 1 July 2021, the level of grant will be reduced each month and you will be asked to contribute towards the cost of your furloughed employees' wages.
The government has launched a Step-by-Step Guide on how to apply. For more information about the eligibility criteria and application process, refer to HMRC Guidance.
Article updated 18th March 2021


HMRC Webinars
HMRC are delivering a programme of webinars on measures to support employers, employees and the self-employed through this period of disruption caused by COVID-19. You can watch a video of the recorded webinar on the HMRC YouTube channel Coronavirus – (COVID-19): helping employers to support employees
You can also attend future free webinars to learn more about the support available to help you deal with the economic impacts of coronavirus. Register here.


Apprenticeships
The Education and Skills Funding Agency (ESFA) is taking steps to ensure that, wherever possible, apprentices can continue and complete their apprenticeship, despite any break they need to take as a result of COVID-19, and to support providers during this challenging time.
They will continue updating this guidance as new information is available and/or the situation evolves. Further information is available at the gov.uk website, in particular the salary support for furloughed employees, which also applies to apprentices.
For further information about operating an Apprenticeship scheme during Coronavirus visit the Government's Apprenticeship website
Information updated 18th May 2021


Employees working from home
If you have people working from home temporarily as a result of the coronavirus outbreak, HSE has advice for employers to follow.
As an employer, you have the same health and safety responsibilities for home workers as for any other workers.

Issues you should consider include:
• lone working
• working with display screen equipment (DSE)
• stress and mental health

For more information, including informational videos and downloadable checklists etc. visit the HSE's website


Skills Toolkit
A new online learning platform to help boost the nation's skills while people are staying at home, has been launched by Education Secretary Gavin Williamson.
The Skills Toolkit is made up of free online courses, tools and resources to help you improve your digital and numeracy skills. The Department for Education has consulted some of the country's leading educational experts and employers to make up a collection of high quality resources to suit a range of interests and skill levels.
Article added 28th April 2020


RIDDOR Reporting
The Health & Safety Executive has issued details of when and how you should report coronavirus incidents under RIDDOR (the Reporting of Injuries, Diseases and Dangerous Occurrences Regulations 2013).

You must only make a report under RIDDOR, relating to coronavirus, when:
• an unintended incident at work has led to someone's possible or actual exposure to coronavirus. This must be reported as a dangerous occurrence
• a worker has been diagnosed as having COVID-19 and there is reasonable evidence that it was caused by exposure at work. This must be reported as a case of disease.
• a worker dies as a result of occupational exposure to coronavirus.

For more information (and examples), visit RIDDOR Reporting.

Articles reviewed 18th May 2021
Right to Work checks during Covid-19 restrictions
The Home Office has announced that Right to Work checks have been temporarily adjusted to make it easier for employers to carry them out during the Coronavirus pandemic. Until 20th June 2021 the following temporary changes have been made:
• checks can now be carried out over video calls
• job applicants and existing workers can send scanned documents or a photo of documents for checks using email or a mobile app, rather than sending originals
• employers should use the Employer Checking Service if a prospective or existing employee cannot provide any of the accepted documents
Checks continue to be necessary and employers must continue to check the prescribed documents - see Right to Work Checks.
Article updated 18th May 2021